Advanced Railway Operation System
Management and supervision of railway lines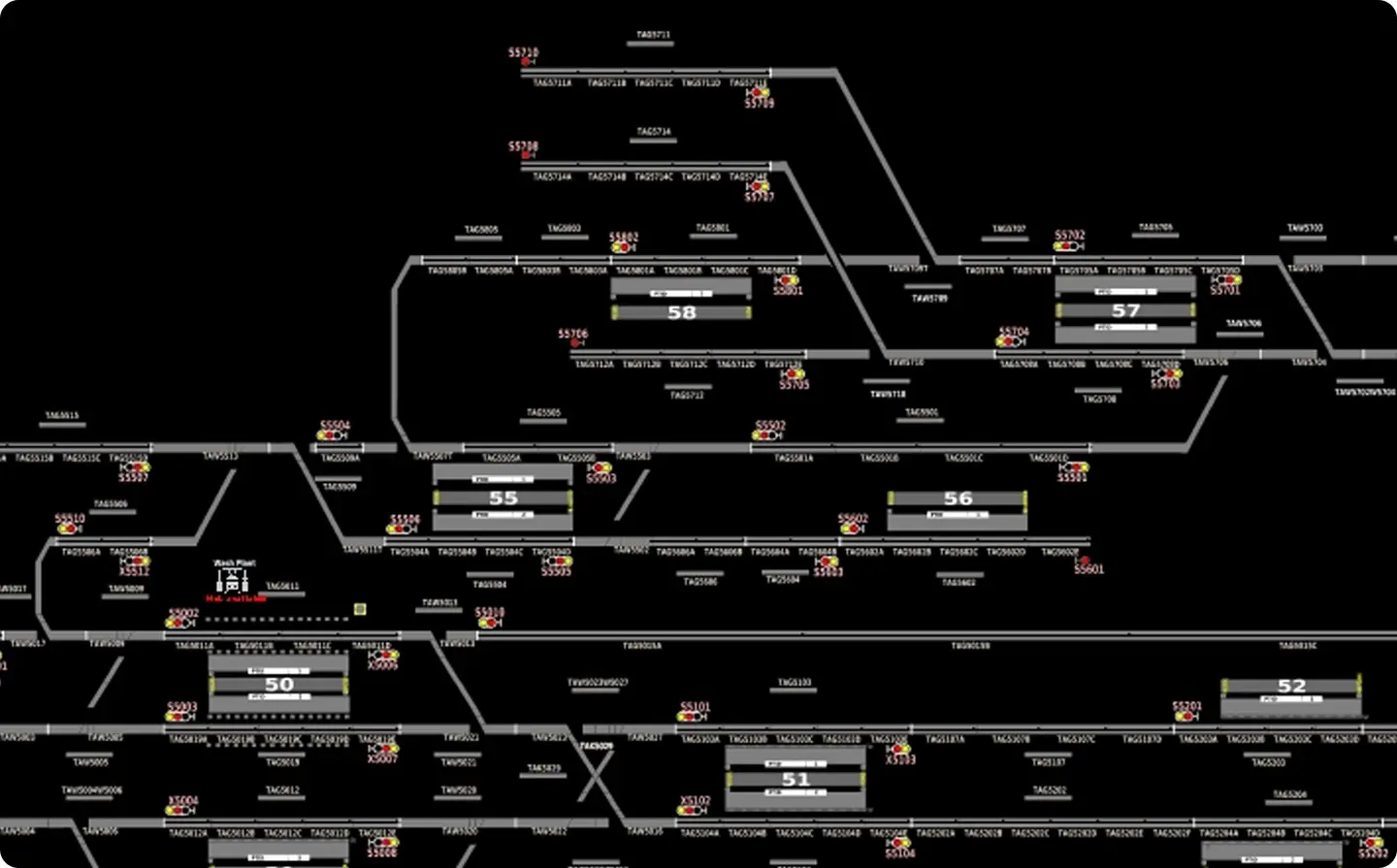 This is one of the most relevant projects duagon's Engineering Services is involved in. It is a railway-line operating system based on ATS, a software solution currently implemented along some of the major railway lines in the world which, through SCRUM methodology, is adapting to current functional and safety requirements by means of the latest technologies.
This software provides a set of tools that railway operators use in order to manage railway lines both high speed, subway, commuter, etc. It is a software adaptable to any railway line, so it is fully configurable and versatile.
It supports the operation supervision by means of a schematic, alarms, events, operating history, TSR management (time speed limitations), allows ERTMS 1, 2, ASFA, CBTC (including GoA4), etc. levels, and incorporates an automatic train regulation environment through which it is possible to configure and adapt the line so that trains use an automatic regulation mode, where the driver only has to open and close the train doors.
In addition to the own management of railway lines, this system for Regulation and Control Centers is ready to operate in Hot-Standby mode, where there is a backup instance of all the software in case the active one fails. In addition, it is evolving in the field of new technologies, to achieve robust, reliable and current software
Countries | Singapore, Brazil, Thailand, Spain, Turkey
Sector | Management and supervision of railway lines
Madrid Metro:
The signalling of 32 stations on line 5 has been renewed, as well as all the software to increase the line capacity up to almost 50%.
In addition, automatic train regulation has been evolved in order to be more reliable and effective during line operation.
Barcelona Metro:
Energy consumption has been reduced by between 15 and 20% thanks to the ATO signalling system, implemented in lines 2 and 5. This results in better company service to its customers.
Singapore Metro:
Singapore's DownTown Line, with a total length of more than 40 km and 34 stations, connects the east and northwest areas with the center. This line works with automatic control systems, allowing the automatic operation of trains. This, together with the electronic interlocking system and the automatic monitoring system, the railway operating system, achieves significant savings in time and costs in commissioning.
Turkey:
Marmaray has the first underwater rail tunnel, which connects two continents. This line, which connects 76 km in total and 14 under the Bosphorus, is equipped with ERTMS and CBTC systems. It currently provides a joint commuter and metro service for the metropolitan area of the city. An advantage for more than 200,000 travelers crossing the strait daily.
Brazil:
The Sao Paulo Metro, whose maximum influx can be around 9 million users a day, works with driverless systems on trains. The automatic monitoring system is also managed by this system, which has allowed the use of trains safely, reducing the journey time up to 5 times. In addition, this technology increases energy performance.
Architecture, design and R&D&I development of ATS software with SCRUM methodology

Software verification and validation (SIL0, SIL1, SIL2)

Infrastructure operations, management and evolution

Maintenance and evolution of software in production

Software interoperability with third-party software

Communication of systems and applications

IT consulting in railway sector

Requirements

Tailor-made software products

Simulation
A multidisciplinary team compounded of software development, system, and software validation engineers, with experience in the railway sector.