GATEWAYS FOR TRAIN-BORNE COMMUNICATION
MVB, ETHERNET, WTB, SERIAL, CAN AND CYBER SECURITY GATEWAYS FOR CONNECTED, SAFE AND AUTOMATED TRAINS
As a global leader in the field of communication and control solutions for the rolling stock market, duagon supplies innovative train-borne communication network components and various train control equipment. We offer an extensive range of gateways for most common train-borne networks including MVB, Ethernet, WTB, serial, CAN and more. We develop, manufacture and support reliable, high quality train control and communication devices for the international market. Our gateways conform to railway standards EN 50155, EN 50121 and IEC 61373. Our products can be configured to perfectly meet the requirements of our customers and provide highest functionality and performance.

The duagon advantage
Complete service – hardware and software from one company
For various train-borne communication network applications including network/zone separation, protocol translation and train backbone communication, duagon is your leading partner for reliable and secure data communication for railways

An extensive product line
Our standard communication gateways are compact and provide off-the-shelf solutions that feature Ethernet, MVB, WTB, FIP, LON, WiFi and serial communications protocol support. The product line offers various product ranges, including:
Ethernet to MVB, Serial, CAN, FIP, Lonworks or Ethernet
MVB to Serial and/or CAN
WTB to MVB or Ethernet
Ethernet to Wi-Fi, Cellular
Most duagon gateways are available ready to use, with a configurable application that covers the needs of standard use cases. For special requirements, duagon offers these communication gateways as a platform, which includes development libraries, documentation and example application codes to enable a fast and efficient design of specific solutions for the customer, or at duagon, according to customer specification. All gateways are conform to EN 50155 and EN 50121.
TRAIN COMMUNICATION AND CONTROL
Flexible, Safe and Secure Gateways for modernizing and retrofitting existing train systems and building rail networks for new projects
With rail transport being the most environmentally friendly and safe way to travel and transport large volumes across long distances, rail transport must become more efficient and, with the development of digital networks, train communication networks must be secure. Whether long-distance freight transport, commuter traffic or high-speed passenger travel, rail services need reliable systems for control and communicating between vehicles and between track and train.
Modern railways have train control, monitoring and information systems for a range of essential functions. These train control systems need to be robust and reliable to provide safe and efficient operation, maintenance and monitoring of rolling stock. The vital communication between the track and train, the signalling systems and the safe performance of the system need to meet specified international standards to improve interoperability of rail services.
Train operators not only need to achieve maximum availability of the rolling stock, while at the same time keeping maintenance cost to a minimum, they also need to build effective cybersecurity for the safe adoption of new IP-based applications for train control, traffic management, train monitoring, CCTV and PIS applications to avoid security incidents.
Vehicle gateways are used to upgrade existing train systems with new and enhanced capabilities. Real-time passenger information (RTPI) based on current vehicle positions, infotainment functionality and automated fare collections (AFC) are provided on board the vehicles. These systems support satellite positioning, data logging, wireless data communication, retrieving data, and can be integrated with other embedded electronic systems.
As environments are often harsh and narrow, computers for rail applications must be robust and compact. They are typically networked by fieldbuses such as MVB, Real-time Ethernet (CIP, IPTCom, PROFINET, TRDP), Serial, CAN and WTB.
To fulfil the rail specific environmental and development quality standards, we work with market-proven procedures, technologies and components. Our solutions are compliant with European railway standards for electronic equipment used for rolling stock and international railway standards for testing equipment used on railway vehicles.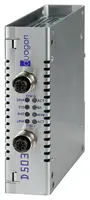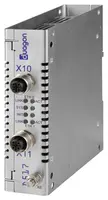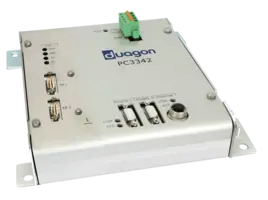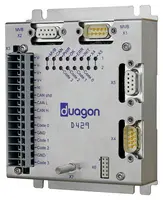 D503 MVB to Ethernet Gateway
The D503 is an easy to configure Ethernet-to-MVB gateway. It provides a line redundant MVB interface as well as up to two 10/100 Mb/s Ethernet interfaces
D517 Secure Gateway
The D517 is a secure Ethernet-to-Ethernet gateway. The integrated firewall implements a design-time configurable packet filter
D429C Communication Module
The D429C MVB-to-CAN gateway is a powerful controller platform with two network interfaces MVB, CAN and a power supply
We can help you configure your system!
at duagon we have a wide range of standard products ready for use, and our products can all be customized for use in a specific application environment.
Our gateways are fully configurable and can be freely programmed for specific applications. Contact our engineering team to support you in building your system and configuring your application.
Our sales team is also available to provide more specific information about our standard hardware range, our software technology, the required standards and certifications, and, together with our team of engineers, developing the optimal solution to your specific application requirements.