LEADING THE EMBEDDED FUTURE - TOGETHER
We have a global presence with support and sales representatives across eightcountries, three decentralized engineering and production facilities and additional assembly facilities. With a team of more than 600 dedicated employees, we solve complex technical problems for critical, highly regulated applications with long-term availability requirements.
Over 320 engineers are focused on product development and maintenance, and fast and competent service and support at each of our locations, make us the first choice for our customers for quality of service, innovation and operational excellence.
DIETIKON | SWITZERLAND (HQ)
Riedstrasse 12 | 8953 Dietikon
The duagon headquarters are based in Dietikon, Switzerland in the agglomeration of Zurich. The central office in the industrial city, with a focus in R&D, covers all aspects of train communication and control. Since the formation of duagon, our engineering team focuses on the area of applications for train-borne vehicles. Due to this focus, we have built up in-depth technological know-how, a broad IP and product portfolio.
The office is well reachable within 30 minutes from the Zurich Airport and the main train station. Dietikon, which is located next to the Limmat river, offers numerous possibilities for sports activities as well as lots of places where you can simply stop and rest. The office provides spacious and bright open-plan offices, meeting rooms with modern equipment, changing rooms with showers and a capacious kitchen with free coffee, fruits and beverages, where you can collaborate and socialize with the whole team. The location provides many great and different restaurants within walking distance.
Our team in Switzerland with over 100 employees consists of administration, engineering, IT, production, sales & support and working students. Our manufacturing facility, fully focused on highest quality levels, gives us a high level of flexibility and control to meet short lead times as well as the ability to quickly realize small-scale series of customizable products. All our corporate and industrial activities are conditioned with sustainability and protectability on the environmental performance.
Teams: Sales and Support | Engineering | Administration | Students | Production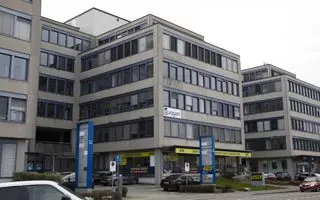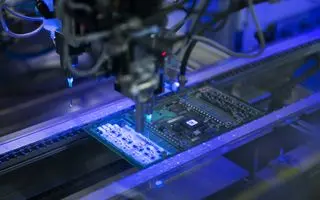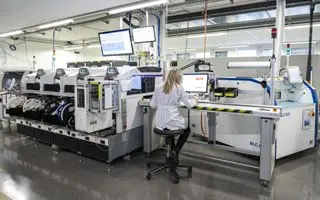 SYDNEY | AUSTRALIA
Unit 13, 82 Reserve Road Artarmon | NSW 2064 | Sydney
The duagon Sydney offices are located within the bustling suburb of Artarmon. Just a short bus or train ride from the Sydney central business district, the duagon Sydney office is nestled within a unique blend of commercial, residential and industrial addresses.
The office is situated between two major train stations and accessible via a free shuttle bus. It is also within walking distance of the Royal North Shore Hospital bus stop, expanding public transport options to those that live off of the train lines. Several cafes are within a minute's walk of the office, ensuring that a variety of culinary options are available to the staff on site.
The team at the duagon Sydney office is split between two units within the same structure. Unit 13 is home to the Hardware, Software and Systems Engineering teams, as well as the Sales and Marketing team. This unit also features meeting room facilities, a workshop and a testing laboratory.
Unit 10 houses the production, service and shipping divisions of duagon Sydney. Production and the majority of testing facilities are located within this unit, as well as an office area for administration and managerial staff. Both facilities are in constant contact and work together in tandem on projects.
Teams: Sales and Support | Engineering | Administration | Production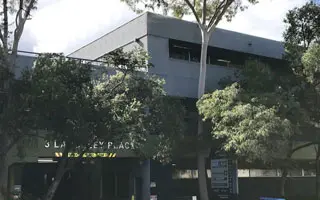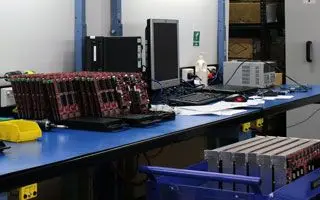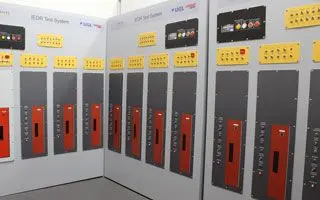 SHANGHAI | CHINA
Room 601, OOCL Plaza | 841 Middle Yanan Road | Jingan District | Shanghai | 200040 China
The duagon China office is based in the downtown Jingan District on Middle Yanan Road, Shanghai, closed to Jingan Temple subway station, with two subway lines that provide convenient access to the public transportation network, making it easy to reach all the airports and train stations, and any other part of the city.
There are many large and modern shopping malls, hotels, restaurants and bars, such as Jingan Kerry Center, Hengshan Moller Villa Hotel, Jing An Shangri.La and Ritz-Carlton Hotel. Shanghai Exhibition Center is on the opposite, which is one of the excellent historical buildings in Shanghai. The office has a large spacious open-plan design and is furnished with the latest technical equipment and many product samples. Most of our 14 on-site colleagues are technical engineers with various areas of expertise. We discuss and exchange ideas freely with a focus on anticipating our customers' needs and helping to achieve new and better technologies. As a team, we all learn together and grow together - and new creative brain is always welcome.
Teams: Sales and Support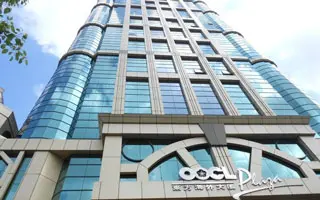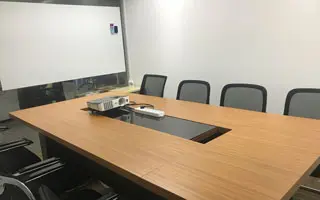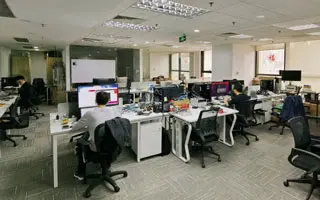 GAILLARD | FRANCE
18, rue René Cassin | ZA de la Châtelaine | 74240 Gaillard
The city of Gaillard is based in Haute-Savoie, a region in the Auvergne-Rhône-Alpes in the south east of France, bordering both Switzerland and Italy. As one of the communes surrounding Mont Blanc, Haute-Savoie is home to some of the most renowned ski resorts and is a popular tourist destination. The mountainous region and the inclusion of Lake Geneva and surrounding forests make Gaillard perfect for maintaining a healthy work-life balance.
The Arve Valley is also located the Haute-Savoie region, and is the heartland of bar-turning, and the office itself is about 5 km from the global city Geneva, and the many international companies as well as the watchmaking and micromechanics industries.
The Auvergne-Rhône-Alpes region, one of the most dynamic and innovative regions in France with its diversity in various sectors such has high-tech industries and tourism, is also at the crossroads of Europe's main transportation routes, which is serviced by various airports, trains and motorways linked to the Swiss and Italian networks.
It is a perfect region for living quietly and trekking in large spaces with mountains, lakes and rivers, nature is everywhere!
Teams: Sales and Support | Engineering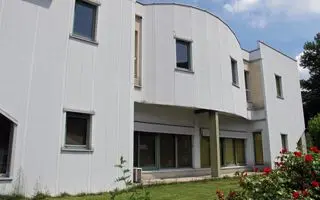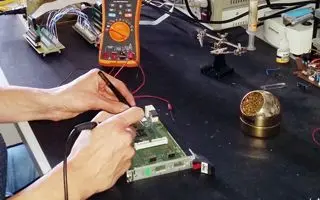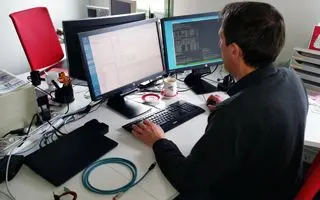 NUREMBERG | GERMANY
NEUWIEDER STRASSE 1-7 | 90411 NUREMBERG
The duagon Germany offices are based in the metropolitan region of Nuremberg, one of the largest business centers in Germany, known for its dynamic high-tech, industrial and innovative services. Continued development potential in many areas of embedded systems technology in the medical, energy, transport and industrial sectors, combined with a high quality of life, provide a stable economic structure and a perfect work-life balance.
The office is easily accessible by public transport and is also in walking distance of the Albrecht Dürer airport. With a large forest area behind the building, and a public city park down the road, there are lots of walking or jogging options, making it the perfect location for a lunch time stroll, or for our running team's training session. On-site facilities include various sized modern meeting rooms, spacious and bright offices, a catered cafeteria with free beverages, automatic coffee machines and filtered water on each floor, as well as employee shower and changing facilities.
During the design and building phase, the focus was on sustainability, durability and, above all, ecological consciousness and is intended to avoid health risks, save energy and protect the environment.
With over 300 employees, the Nuremberg branch is home to engineers, sales, support and marketing staff, IT and human resources departments as well as a large production area with two fully automated SMT lines and our own on-site testing laboratory.
Teams: Sales and Support | Engineering | Administration | Students | Production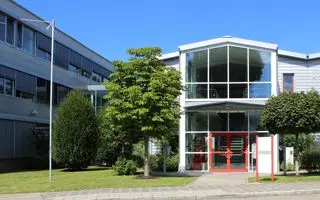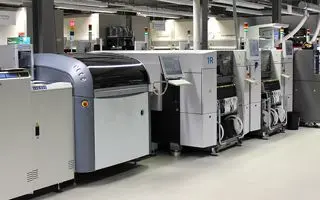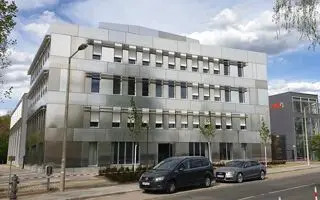 Gurugram | INDIA
712, The Palm Springs Plaza | Golf Course Road, DLF Phase 5 | Sector - 54, Gurugram 122003 | Haryana
duagon India is located on the Golf Course Road across the sector 53-54 Rapid Metro Station in Gurugram, a lively industrial city in northern India sharing its border with the national capital New Delhi. The office is reachable from the Indira Gandhi International Airport New Delhi in less than half an hour by car or taxi, and just less than an hour by public transport.
Gurugram is India's second largest information technology hub and serves as the headquarters of many of India's largest companies, is home to thousands of startup companies and has local offices for more than 250+ Fortune 500 companies. It is the financial and industrial technology center of the state of Haryana. Gurugram is categorized as very high on the Human Development Index, with an HDI of 0.889 (2017). The city also offers many after work and leisure activities, like a visit to India's first live entertainment theater, the Kingdom of Dreams, many high streets and modern-day shopping malls, regions finest multi-cuisine restaurants and food courts. However, it's not all just hustle and bustle in Gurugram as the city also offers a number of more relaxing activities with various parks which include the Botanical Gardens, the Leisure Valley Park and the Aravalli Biodiversity Park which spreads over 350 acres and many historical and archaeological sites to visit in the neighborhood.
Our team in India consists of 2 highly qualified sales managers and 1 application engineer.
Teams: Sales and Support | Engineering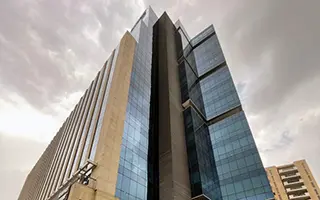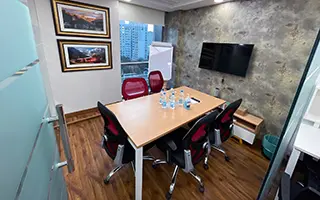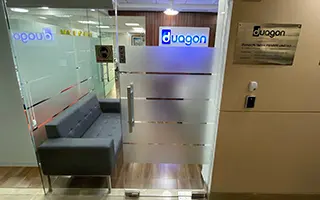 TRES CANTOS | SPAIN
Ronda de Europa, 5 1B Norte | 28760 Tres Cantos
The duagon Tres Cantos offices are based in the "La Carpetania" business park, within walking distance from the commuter train station, and a 30-minute ride to downtown Madrid and the high-speed train hub. Several multinational companies have chosen this town for its strategic location and services.
The offices can be found within a smart building that hosts a snack bar and offers restaurant services with healthy and varied menus. The facilities are divided into two floors, with the main one offering a large open space to foster a collaborative culture. There is also a lab available for researchers and tests. With over 120 employees, most of them young engineers, the work environment is friendly and welcoming.
Tres Cantos is close to the Northern mountain ranges of Madrid, ideal for a countryside stroll. On the other hand, the capital of Madrid, in the heart of Spain, is known for its lively cultural scene, including some of the most renowned art museums in the world, such as El Prado or the Centro de Arte Reina Sofía. It is also an ideal starting point to explore the country.
Teams: Sales | Engineering | R&D | Administration | HR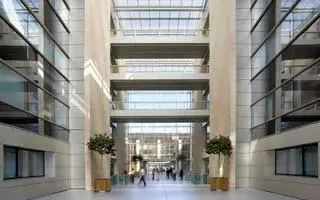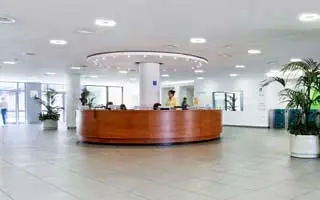 BLUE BELL | USA
860 Penllyn Blue Bell Pike | Blue Bell, PA 19422
The duagon US offices are located 20 miles West of Philadelphia, PA in the suburb of Historic Blue Bell. With its green open space, Blue Bell has much to offer with many affordable living spaces as well as excellent dining and shopping options, all while still being a short drive to the city for additional entertainment. Philadelphia International Airport and Amtrak are both easily accessible for those needing to travel.
On-site facilities include well-appointed and bright offices, conference room, production and warehousing spaces. A kitchen is available for use along with free drinks and snacks to help keep you energized. The office has plenty of parking and a few restaurants within walking distance. There are also local parks and shopping for anyone who likes to step out at lunch.
Our staff of 12 employees consists of engineers, sales, production and administration. IT and Human Resources are also on-site, making it convenient for employees to get immediate support when needed.
Teams: Sales and Support | Engineering | Assembly