D202 - PC-MIP Carrier Board
(Product Discontinued)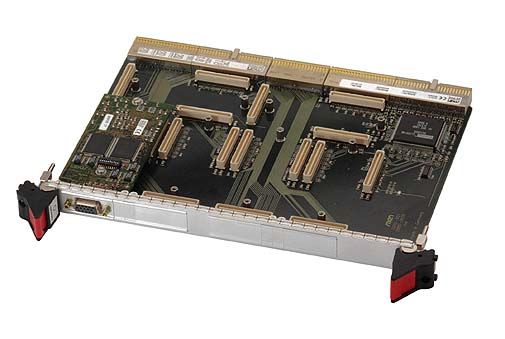 The D202 is a 6U PC-MIP carrier board for universal I/O on the CompactPCI bus. You can install up to six PC-MIPs on the D202, with four Type I/II and two Type I PC-MIPs.
All PC-MIPs provide I/O via the J3/J4/J5 CompactPCI connectors of the D202, while the four Type II modules are also accessible at the front panel.
Even equipped with six PC-MIPs, the D202 needs only one slot on the CompactPCI bus.
PC-MIPs are an ideal solution for flexible and fast CPU-related applications, which take advantage out ofthe internal PCI bus of the PC-MIPs.
Features
1 CompactPCI bus slot
6 PC-MIP slots
Specifications
CompactPCI Bus

Compliance with CompactPCI Specification 2.0 R2.1
Only one slot required on the 6U CompactPCI bus
DECchip 21150 PCI-to-PCI bridge

Target and/or initiator on PCI bus
Max. clock frequency 33MHz
Power supply 5V and 3.3V

Compliance with PCI Specification 2.1
32-bit PCI data bus
V(I/O): +3.3V or +5V (Universal Board)

PC-MIPs

Up to six PC-MIP modules on one board
Support of 2 Type I and 4 Type II modules
Local 32-bit PCI bus

Peripheral Connections

Via front panel
Via CompactPCI J3/J4/J5

Electrical Specifications

Supply voltage/power consumption:

+5V (4.85V..5.25V), 5mA typ.
+3.3V (3.2V..3.5V), 150mA typ.

MTBF: 225,000h @ 50°C (derived from MIL-HDBK-217F)

Mechanical Specifications

Dimensions: conforming to CompactPCI specification for 6U boards
Front panel: aluminum with 2 handles
Weight: 320g

Environmental Specifications

Temperature range (operation):

0..+60°C
Industrial temperature range on request
Airflow: min. 10m³/h

Temperature range (storage): -40..+85°C
Relative humidity range (operation): max. 95% non-condensing
Relative humidity range (storage): max. 95% non-condensing
Altitude: -300m to + 3,000m
Shock: 15g/11ms
Bump: 10g/16ms
Vibration (sinusoidal): 2g/10..150Hz

Safety

PCB manufactured with a flammability rating of 94V-0 by UL recognized manufacturers

EMC

Tested according to EN 55022 (radio disturbance), IEC 61000-4-2 (ESD) and IEC 61000-4-4 (burst)

Software Support

PC-MIP drivers for Windows, VxWorks, Linux, QNX, OS-9 as supported
Documentation
Short-form Data Sheet

User Manuals