A novel and industry-leading approach to building industrial computing platforms!

Our DIN-Rail computer systems are a selection of individual prefabricated components that can combine various functions as required to create computing platform for a range of rail onboard, wayside and industrial IoT applications. The modules are combined in flexible built-to-order configurations that can be conveniently mounted on a space-saving standard DIN rail.

DIN-Rail mounted systems are fully modular and can be configured to various application requirements
Modular Concept for Vast Number of Applications
Combine all required functions from a selection of modules for DIN rail mounting
The module boxes are a range of individual units that can easily be combined in flexible configurations for a large range of applications.
The configuration of the units depends on your requirements, you can easily put together your own tailor-made computer system that is perfectly suited for your specific application .
The modular system allows the configuration for many different applications while using a single base product, the CPU module, while reducing the costs caused by the inclusion of unneeded functionality.
The system is compact and made to fit a standard widely used DIN rail 35mm mounting.
The housing has been designed for stacking – with each module enclosed in a perforated aluminium housing and an individual front panel.
The modules are connected via board to board connection to allow easy integration of extension modules.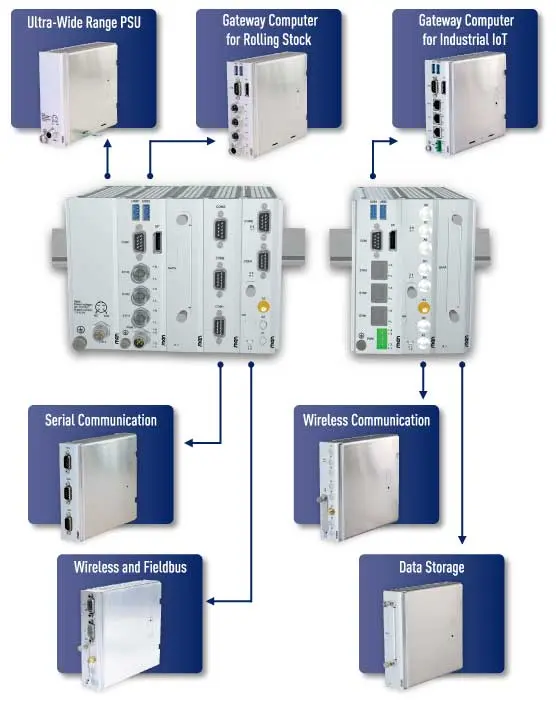 The CPU units are fully modular DIN rail mounted gateway computers for digital railway, public transport and industrial automation applications. The computing platforms feature an Intel Atom E3900 series CPU with low power dissipation and scalability in performance and memory. These DIN-Rail computers are the ideal basis for functions such as security gateway, predictive maintenance, CCTV, data protection or ticketing system, or to act as a diagnostics server. These compact box PCs can be used as a stand-alone product, and due to the modular BTO concept, can also easily be combined with extension modules to provide additional functions and features.
The CPU module MC50M is qualified for rolling stock and wayside applications; the MC50I for wayside and information technology applications. In combination with the prefabricated PSU module MP1, the MC50M also achieves the standard supply voltage range for use in rail vehicles (EN 50155).
The extension units include a wireless communication module, a data storage unit, a serial communication module, a fieldbus and wireless module and a ultra-range PSU.
These modules provide interfaces like MVB, CAN, audio, binary and analog I/O as well as wireless functions like LTE Advanced, WLAN and GNSS. A removable shuttle with one or two 2.5'' SATA HDD/SSD disks can extend the DIN-rail system for storage intensive applications. An ultra-wide range PSU module can be integrated when a power input of 24 V to 110 V DC 24 V DC to 110 V DC, which is EN 50155 compliant, is needed to extend the standard power supply voltage range of the computer module, making it also suitable for use in rolling stock applications.
Mechanical Specifications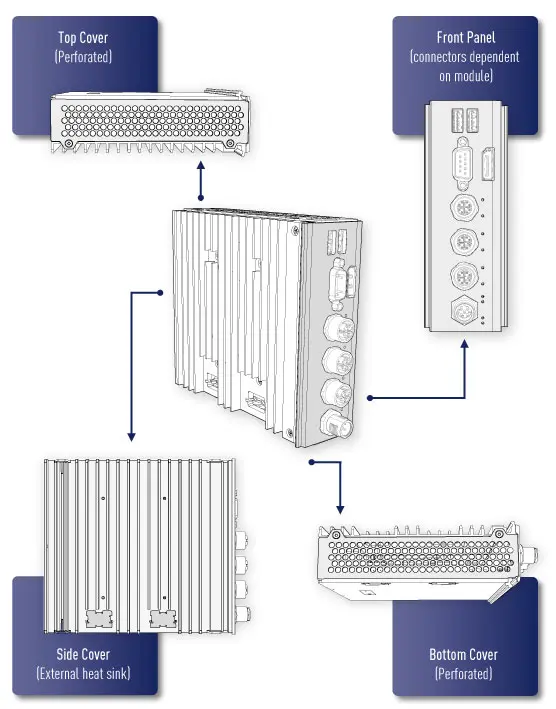 The concept specifications include housing dimensions, mounting, cooling and IP protection.
In addition, extension connectors and their pin-outs are defined.
With the board-to-board connection concept, extension modules can be seamlessly integrated.
Easy integration of the pre-fabricated extension modules allows application specific configurations to be assembled and delivered in short time.
Various mounting options facilitate the integration of the boxes into an existing environment.
The standard 35 mm DIN rail mounting offers space saving mounting of all system modules on a single rail.
Wall mounting and mounting in a 19" rack using adaption brackets are an option.
Available DIN-Rail Modules
For more information on building your own DIN-Rail system, or on our range of DIN Rail products and functions, please contact our sales team.