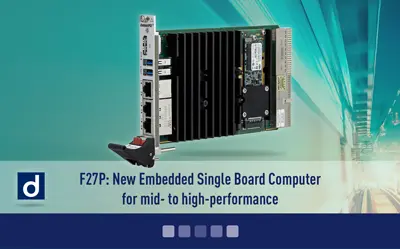 duagon introduces the F27P, a new CompactPCI PlusIO (PICMG standard 2.30) CPU board family, which is based on the AMD Ryzen Embedded APU family. The design supports both dual-core and quad-core CPUs, such as the AMD V1404I or the AMD V1807B, with a TDP range of a moderate 12 W up to 54 W with high-performance suitable for customer application computing power needs scaling from mid- to high range. With its embedded design for harsh environments, the F27P is suited for the rail market, industrial automation or the power and energy sector, among others.
Compliant to the CompactPCI PlusIO (PICMG 2.30) specification, the board can be used in a hybrid system for control of both CompactPCI and CompactPCI Serial peripheral boards.
Safe and secure operation
Being designed for comprehensive requirements such as data-intensive tasks, the memory and mass storage on the new CompactPCI board match the needs of reliable embedded computing. For data-intensive tasks, the F27P is equipped with up to 32 GB of soldered-down DDR4 RAM with ECC and eMMC. The non-volatile RAM (FRAM) can permanently store critical runtime data. Mass storage can be added on an extension card with support of both 2.5" HDD/SSD and NVMe devices.
For safety related supervision, the F27P comes with an advanced Board Management Controller (BMC) that monitors onboard voltages and temperature and performs dedicated tasks like watchdog management, power supply control and reset handling. A Trusted Platform Module (TPM 2.0) provides support for remote secure device authentication, measured boot, and secure updates.
New modular front design
The F27P features up to three RJ45 (single-slot) or modular M12 (dual-slot) Ethernet front connectors on 4 HP or 8 HP, making it more versatile for retrofit applications covering different M12 coding variants. Other front I/O include two USB 3.2 Gen 1x1 connectors and one DisplayPort connector.
The design includes an optional extension card for additional I/O. Aside from mass storage, several USB and UART interfaces can cover legacy tasks. Users therefore save both costs and space especially in retrofit applications. Even with the extension card, the F27P stays a compact CPU assembly in the system. In regard to the CPU board's modularity, the processor and I/O options offered are backed by a tailored thermal design.
Embedded design for harsh environments
The F27P was designed for extreme operating temperatures ranging from -40 °C to +70 °C (system ambient) as well as shock and vibration in applications where high reliability and long-term availability is essential. This is the case in the rail, transportation, industrial automation or the power and energy market. The board is available as passively cooled model, supporting a system ambient temperature of up to +70 °C, and as high-performance model with forced air cooling for moderate temperature requirements.
Additionally, customized BMC, BIOS, life-cycle-extension as well as cyber security services are available with the F27P. The board has a long-term availability.