The duagon product development team invite you to attend our web seminars in 2023.
Our web seminars are presented by our experienced engineers, product managers and developers with a background in electrical, business and telecommunication engineering as well as technical computer science.
Take the opportunity to learn about our latest product and technology innovations from the people who are directly involved in their development. After the presentation, our experts will be available for further discussions, and to answer your questions.
Due to time zone differences, there will be multiple time slots available on some days. All sessions will be presented live and will contain the same information. You can select your preferred time slot when you register.
AI applications without using discrete GPUs | Exploring CPU Co-Processing
Possibilities
19 July 2023
&
26 July 2023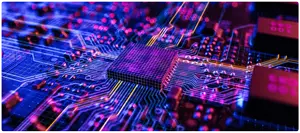 Cyber Security | Gateways
Register to be notified when this web session has been scheduled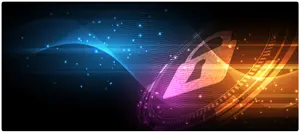 Life-Cycle Services | Which services are must-haves in the railway industry.
More information to follow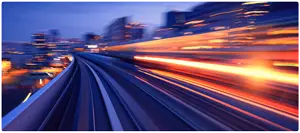 Our duagon web seminars are free - register today to secure your spot.
AI applications without using discrete GPUs
As with nearly all industries, the railway market has also been significantly impacted by the rapid development of artificial intelligence and machine learning over the past few years. AI-based components are increasingly being used in rail applications such as intelligent CCTV, seat reservation, personalized infotainment and many more.
There is a common belief that only discrete GPUs (e.g., NVIDIA) can be used to implement embedded AI solutions. Recent CPUs offer advanced technologies and come with development tools for setting up and running open AI inference models.
In this web seminar we would like to present what can be done without using discrete GPUs.
Focus:
AI applications in the rail and transportation markets
CPU technologies supporting AI
Inference models
Development tools
Upcoming duagon products
Due to time zone differences, there will be two time slots available on this day. Both sessions will be presented live and will contain the same information. You can select one of the two time slots offered when you register.
Timeslot 1:
8:00AM Central European Time (CET)
5:00PM Australian Eastern Time (AEST)
3:00PM Japan/Korea Standard Time
Timeslot 2:
3:00PM Central European Time (CET)
9:00AM US Eastern Standard Time (EST)
---
Due to time zone differences, we have added another session. This session contains the same information as the two time slots offered above. Please select this time slot if this is your preferred time.
Timeslot 3:
6:00 PM Central European Time (CET)
12:00 PM East Coast Time (EST)
9:00 AM Pacific Standard Time (PST)
Toni Lozancic

|

Product Manager
Jonathan Frieß

|

Engineer Software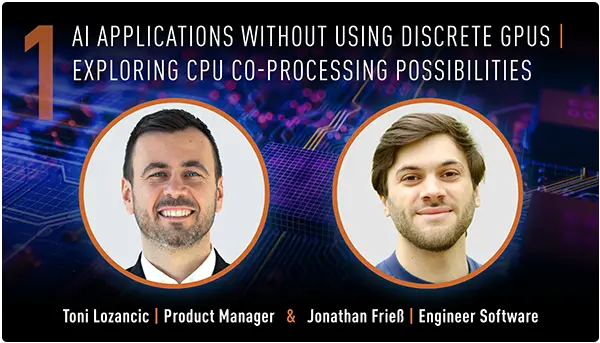 Toni Lozancic, B.Eng. Electrical Engineering, joined duagon in 2015 as a Product Line Manager. He is responsible for rugged, non-safety critical, computing products, i.e. Box PCs, DIN-Rail product family and CPCI/ CPCI Serial CPU cards. Before his time at duagon he worked as a Systems Engineer on the development of sensors and high precision measurement electronics used in harsh environments.
Jonathan Frieß, M.Sc. Information and Communication Technology, joined duagon in 2020 as a Software Engineer. As part of the OS team, he is working on board support packages and Linux drivers for duagon products. In the past he evaluated the AI capabilities of various embedded systems at duagon.
Cyber Security | Gateways
As train systems become more interconnected and continue to involve with the expansion of IoT, we're witnessing remarkable increases in system speed and efficiency. However, these advancements bring about new vulnerabilities. Cyber security, once a concern for corporate IT infrastructure, has emerged as a necessity in this connected world. The railway industry is increasingly faced with cyber threats to its Operational Technology (trackside) as well as onboard. duagon offers a range of cyber-secure products and services that ensure the secure, interference-free operation of your application.
The demand for a strategic approach to security is needed to protect vital systems from external threats. duagon's cyber security offering focuses on protecting connected sub-systems and entire networks from attacks that could access sensitive electronic data or disrupt services. duagon provides means to protect systems against malicious attacks by securing end device communication and separating networks depending on possible threat vectors and criticality.
Alexander von Allmen

|

Director Product Management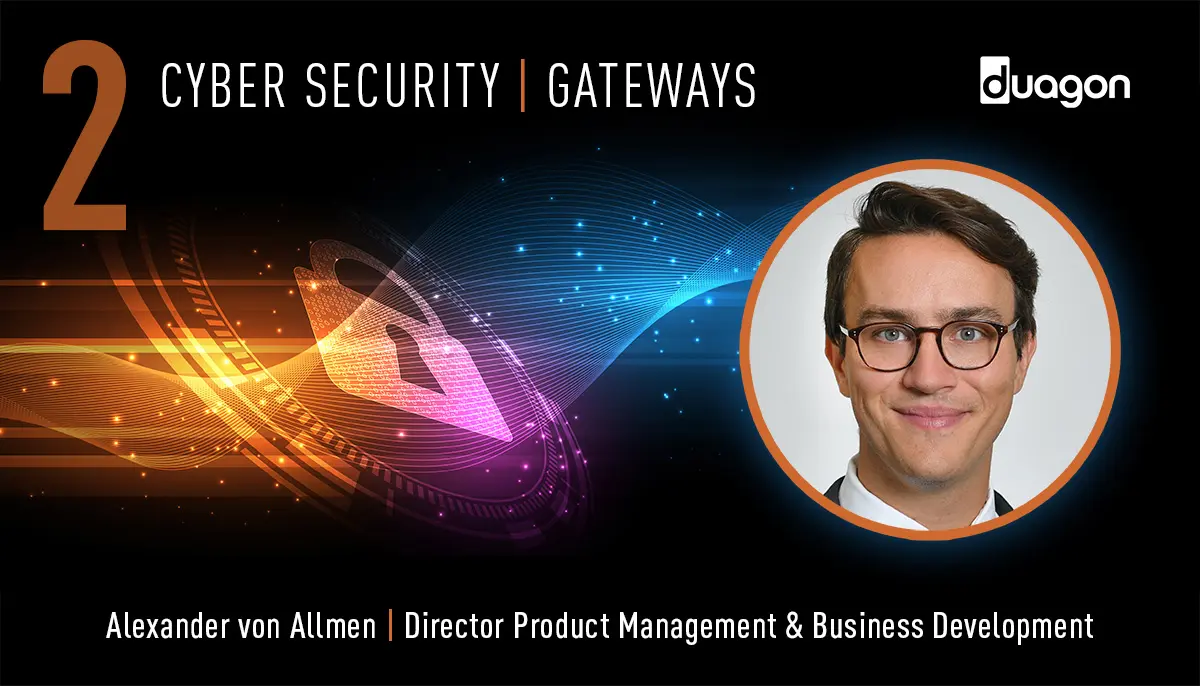 Alexander von Allmen is a Director, Product Management & Business Development at duagon AG and has been working in various roles since 2017. He has a Master's and Bachelor's degree in electronic engineering. Thanks to his engagement at duagon he has gained in-depth experience in project management, go-to-market strategy, data analytics, network technologies, and cross-border M&A transactions. He is currently pursuing his MBA from the University of St. Gallen.
Product LIFE-CYCLE SERVICES
LCM services focus on the process from product launch to its removal (from the market). Whether on obsolescence management, with cyber security or life-cycle extension, we bring our knowledge to every product phase.
Date | December 2023 - Final date to be scheduled
Registration is possible for any region and time zone - please select the date and time that suits you best.
Contact Support & Sales At duagon
Our international team of engineers and sales consultants are here to help - no matter where in the world you are.
At duagon we have a wide range of standard products ready for use, and our products can all be customized for use in a specific application environment. Our sales team is here to provide more specific information about our standard hardware range, our software technology, the required standards and certifications, and, together with our team of engineers, developing the optimal solution to your specific application requirements.