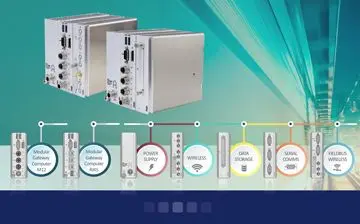 DIN Rail is a modular concept based on robust individual components which can be combined in flexible built-to-order configurations. The DIN Rail modules are suitable – thanks to medium CPU and low power dissipation – for a variety of applications in the mobile and industrial market.
Flexible configuration in a modular system
The DIN Rail concept is designed for flexible configuration of module combinations and is suitable for embedded IoT applications in various markets. The range of individual modules includes a CPU module, a power supply unit and various expansion modules for wireless communication and storage.
In the modular system, the data transfer between the individual modules as well as the power supply of the individual components takes place via the expansion connectors standardized by MEN. The concept specifications include housing dimensions, mounting, cooling and IP protection. In addition, expansion connectors and their pin assignments are defined.
Fast time to market with flexible expansion modules
The MC50M is the current basic module of the DIN Rail family and is based on Intel's Atom E3900 series with low power dissipation and scalability in power and memory.
The simple integration of ready-made expansion modules enables application-specific configurations to be created and delivered in a short time.
The expansion modules have interfaces such as MVB, CAN, binary and analog I/Os as well as the wireless functions LTE Advanced, WLAN and GNSS. A removable shuttle with one or two 2.5'' SATA hard disks can expand the DIN Rail system for storage-intensive applications. A wide-range power supply can be integrated if a nominal power consumption of 24 V DC to 110 V DC is required (EN 50155).
DIN Rail mounting (35 mm) is standard. Wall and 19'' rack mounting is possible with the aid of adaptation brackets.
Highest qualification and availability
The CPU module is qualified for use onboard rail vehicles, for wayside applications and for road vehicles (ECE R10). Long-term availability of at least 15 years from product launch minimizes life cycle management.
The components of the DIN Rail family support the temperature range -40°C to +70°C according to the railway standard EN 50155 (class OT4, ST1) with internal conduction cooling.