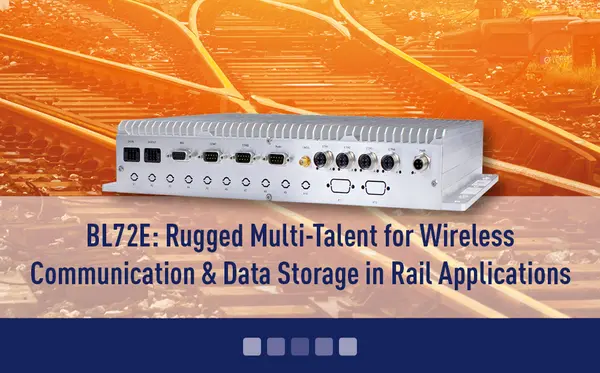 Nuremberg, August 2021 – The BL72E is a robust box PC with high communication and storage capacity. It is the perfect choice for the rail and public transport industry, especially for on-board applications such as internet-on-board, positioning via GNSS, CCTV / recording, passenger entertainment and more. Two basic processor configurations matching the option extensions specifically support the user in running or evaluating their system.
The BL72E is a fanless, maintenance-free box computer for embedded applications in transportation. It is based on AMD's Ryzen V1000 APU family featuring excellent power-per-watt performance and a Radeon Vega next-generation 3D graphics engine. With up to four high-performance processor cores and AMD virtualization support, and up to 32 GB soldered-down DDR4 SDRAM, the BL72E offers powerful computing performance for handling data intensive work loads.
Versatile Wireless Communication Options
Numerous wireless options are available to provide vehicle localization or Internet for passengers. These include a GNSS positioning interface, two PCI Express mini-card slots and two M.2 slots for implementing mobile service standards up to 4G LTE or WLAN IEEE 802.11 and their derivatives.
In total, the BL72E contains eight externally accessible micro SIM card slots. In addition, the box PC can be supplemented with a second I/O card that provides further LTE modems, memory, and I/O.
For IoT or Storage-Intensive Applications
The BL72E's SATA HDD/SSD shuttle has the necessary storage capacity for video surveillance systems. For example, the box PC can be used to process video streams from outdoor cameras to enable semi-autonomous driving. An eMMC memory and an M.2 slot for PCIe storage (NVMe) provide further capacities.
With its strong processing power, scalable memory and wireless connectivity, the BL72E is also well-suited for entertainment server applications.
A Wide Range of I/O
The BL72E supports a DisplayPort interface with a maximum resolution of 4K. A variety of other I/Os are available, including four Gigabit Ethernet, audio, two USB 3.2, RS232, RS422/RS485, and IBIS slave. An optional MVB or CAN bus interface can be implemented, as well as digital inputs and outputs.
Robust and Railway-Ready
The Box PC has a wide range power supply (24..110 VDC nominal) and complies with the railroad standard DIN EN 50155. An ignition input signal is used to remotely turn the system on and off, thus saving power. When the system is not needed, it can be shut down remotely in a safe and controlled manner. With its robust aluminum housing with cooling fins that serve as heat sinks, the BL72E is capable of conduction cooling. This enables fanless operation at temperatures from -40 °C to +70 °C (+85 °C for up to 10 minutes).