SA2 - RS422/RS485 Interface Adapter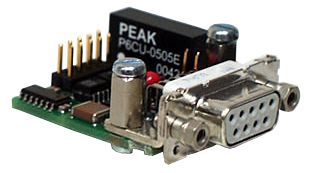 The SA2 is a 1-channel RS422/485 half/full duplex interface adapter with optical isolation.
SA-Adapters are small universal boards providing the physics for legacy serial I/O, fieldbus interfaces and other small I/O functions. One serial line is provided per adapter, which can be plugged directly to the CPU board as a mezzanine. Alternatively, the adapter can be connected to the front panel via ribbon cable. The SA concept allows to add additional I/O interfaces to many of MEN's CPU boards, enhancing flexibility with regard to the line transceivers and isolation requirements. Whether a specific SA-Adapter (or a mix of different SA-Adapters) fits on a specific CPU board is determined by a combination of mechanical, performance, FPGA and operating system criteria and needs to be verified for every board configuration requested.
Features
1 RS422/485 channel Optically isolated Shielded 9-pin D-Sub connector
Specifications
Universal Concept

2 data lines
2 power supply lines

Interface Type

RS422/RS485, half/full duplex, optically isolated

Interface Compliance

Peripheral Connections

Via front panel on a shielded 9-pin D-Sub receptacle connector

Installation

As a piggy-back board directly on a CPU board
Via ribbon cable

Electrical Specifications

Isolation voltage:

500V DC
Voltage between the connector shield and isolated ground is limited to 180V using a varistor; AC coupling between connector shield and isolated ground through 47nF capacitor

Supply voltage/power consumption: +5V (4.85V..5.25V), 220mA typ.
MTBF: 1,300,000h @ 50°C (derived from MIL-HDBK-217F)

Mechanical Specifications

Dimensions: 32mm x 42mm
Weight: 18g

Environmental Specifications

Temperature range (operation):

0 °C to +60 °C or -40 °C to +85 °C
Minimum: -50 °C (on request)
Airflow: min. 10m³/h

Temperature range (storage): -40 °C to +85 °C
Relative humidity (operation): max. 95% non-condensing
Relative humidity (storage): max. 95% non-condensing
Altitude: -300 m to + 3,000 m
Shock: 15g/11ms
Bump: 10g/16ms
Vibration (sinusoidal): 2g/10..150Hz

Safety

PCB manufactured with a flammability rating of 94V-0 by UL recognized manufacturers

EMC

Tested according to EN 55022 (radio disturbance), IEC 61000-4-2 (ESD) and IEC 61000-4-4 (burst)
Standard Models
08SA02-00

RS422/485, half duplex, optically isolated, 0°C to +60°C

08SA02-01

RS422/485, full duplex, optically isolated, 0°C to +60°C

08SA02-07

RS422/485, full duplex, optically isolated, -40°C to +85°C screened
Documentation
Short-form Data Sheet

User Manuals