M11 - Mezzanine Card with 16-bit TTL I/O Interface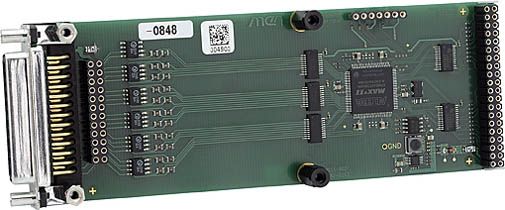 The M11 mezzanine card is a TTL I/O M-Module with 16 lines (Ports A and B) that can be used separately as two ports with 8 bits each or together as a 16-bit port. Control of the I/O lines is via the four handshake lines. Depending on the operation mode, the four handshake lines generate an interlocked handshake, a pulsed handshake, interrupt inputs or simple inputs.
The M11 is based on the M-Module ANSI mezzanine standard. It can be used as an I/O extension in any type of bus system, i.e. CPCI, VME oron any type of stand-alone SBC. Appropriate M-Module carrier cards in 3U, 6U and other formats are available from duagon or other manufacturers.
Features
18 TTL inputs/outputs
4 handshake lines
Programmable timer
24 bits resolution
-40 °C to +85 °C
Specifications
TTL I/O

18 TTL inputs/outputs

68230 Parallel Interface Timer

Port modes include:

Bit I/O
Unidirectional 8-bit and 16-bit
Bidirectional 8-bit and 16-bit

Programmable handshaking options
24-bit timer
Five separate interrupt vectors
Separate port and timer interrupt service requests

Input Voltages and Currents

Input voltage "high" min. 2 V, max. 5 V
Input voltage "low" min. -0.3 V, max. 0.8 V
Input leakage current max. 10 µA

Output Voltages and Currents

Output current in "off-state" min. -0.1 mA, max. -1 mA
Output voltage "high" min. 2.4 V (load < -0.15 mA)
Output voltage "low" max. 0.5 V (load < 2.4 mA)

Peripheral Connections

Via front panel on a shielded 25-pin D-Sub receptacle connector
Via carrier board (rear I/O)

M-Module Characteristics

A08, D08, INTC, IDENT

Electrical Specifications

Supply voltage/power consumption: +5 V (4.85 V..5.25 V), 27 mA typically without driving external loads

Mechanical Specifications

Dimensions: conforming to M-Module Standard
Weight: 68 g

Environmental Specifications

Temperature range (operation):

-40..+85°C
Airflow: min. 10 m³/h

Temperature range (storage): -40..+85°C
Relative humidity range (operation): max. 95% non-condensing
Relative humidity range (storage): max. 95% non-condensing
Altitude: -300 m to +3,000 m
Shock: 15 g/11 ms
Bump: 10 g/16 ms
Vibration (sinusoidal): 2 g/10..150 Hz

MTBF

tbd @ 40°C according to IEC/TR 62380 (RDF 2000)

Safety

PCB manufactured with a flammability rating of 94V-0 by UL recognized manufacturers

EMC

Conforming to EN 55022 (radio disturbance), IEC 61000-4-2 (ESD) and IEC 61000-4-4 (burst)

Software Support

MEN Driver Interface System (MDIS for Windows, Linux, VxWorks, QNX)
Standard Models
04M011-02

16-bit TTL I/O, -40..+85°C qualified
Accessories - Miscellaneous
05M000-00

M-Module cable, 2 m, with 25-pin D-Sub plug/housing to pig tail

05M000-17

25 mounting screw sets to fix M-Modules on carrier boards (3 different screw types, 50 pieces each)
Software
Linux
Windows
QNX
VxWorks