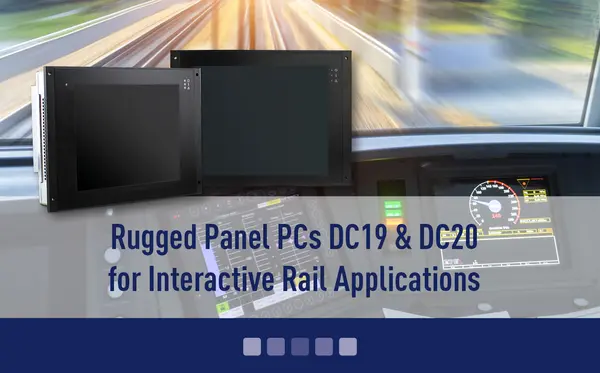 Nuremberg, 14 July 2021 – duagon AG has introduced its new panel PCs DC19 and DC20. Unlike their predecessors they are powered by an Intel Atom processor from the E3900 Series and provide a wide range power supply unit. Designed for rugged railway applications, the maintenance-free human-machine interfaces (HMI) operate in a -25 °C to +70 °C environment and can be tailored for all types of applications in different train models.
As railway environments are typically harsh and narrow, computers in transportation applications must be robust and impact resistant. This also applies to the use of multifunctional displays in the driver cabin of e.g. light weight rail, high speed or freight trains. There they can be part of the train control & management system (TCMS) or provide as HMIs driver information about the route or provide camera displays of the train environment.
High-resolution display for energy-efficient computing
Both the DC20 with 12.1-inch and the DC19 with 10.4-inch house a robust impact resistant XGA TFT LCD display with LED backlight with an additional touch screen. Due to the high resolution and optimized usability of the displays, the panel PCs can be well used for CCTV purposes.
Since the space in the driver cabin of a train is limited, the DC19 and DC20 have a small, ultra-flat mechanical design and configuration options. They come with an extremely rugged housing with an IP65 compliant front, which supports a railway-compliant power supply of 24 V DC to 110 V DC, its internal PSU complying with EN 50155 class S2. All electronic components are soldered to withstand shock and vibration, backed up by solid M12 connectors, and protected by conformal coating. According to the standard, both panel PCs operate in a -25 °C to +70 °C environment (+85 °C for 10 minutes), which is achieved through fanless conduction-cooling technology.
The DC19 and DC20 are powered by an Intel Atom processor from the E3900 series running at up to 1.6 GHz and equipped with up to 8 GB RAM with ECC and a 32 GB soldered eMMC. Standard interfaces include two Gigabit Ethernet, one CAN, one audio, two digital I/O and RS232/RS422/RS485, which are all available on M12 connectors at the back of the panel PC. In addition, wireless communication functions such as 4G and GNSS and be controlled by two PCI Express Mini Card interfaces. Two micro-SIM card slots with dual-SIM functionality are accessible at the back of the panel.