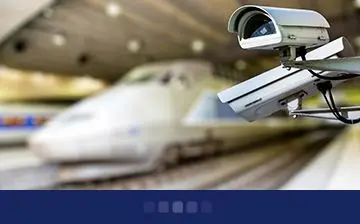 MEN Micro is pleased to announce its recent membership in the Genetec™ Technology Partner Program. The rugged MEN Micro hardware has been certified and has proven its ability to seamlessly integrate with the Genetec™ Security Center unified security platform. The technology integration between these two industry leaders provides customers with the best in class computing hardware and software platforms for demanding IP video surveillance applications, e.g. for transportation and transit in moving vehicles.
Video Surveillance on Rugged Embedded Computer Devices
As part of the Genetec™ Security Center unified IP security platform, Omnicast™ IP video management system (VMS) provides organizations of all sizes the ability to deploy a surveillance system that addresses their unique video security needs. Through deep support for a wide range of industry-leading cameras, encoders, and CCTV equipment, the Omnicast™ system scales and adapts to the changing demands of your security environment.
Video surveillance in harsh environments or moving vehicles also require suitable hardware to be able to work reliably. Examples can be found in railways, automotive, moving machines, ships, or also airplanes. Especially developed to the requirements and standards of these demanding markets, the embedded boards and systems from MEN Micro are the perfect fit for this kind of applications.
Qualified by a drive endurance test, MEN hardware has proven its reliability, giving Genetec™ a new technology partner and end-users in the transit industry a perfect bundle for hardware and software.
Since its founding in 1982, MEN has focused on innovation, reliability and flexibility to develop and produce a robust offering of highly reliable embedded COTS boards and industrial PCs widely used in extreme environmental conditions found in mobile, industrial and safety-critical applications.
About Genetec
Genetec develops open-architecture software, hardware and cloud-based services for the physical security and public safety industry. Its flagship product, Security Center, unifies IP-based access control, video surveillance and automatic license plate recognition (ALPR) into one platform. A global innovator since 1997, Genetec is headquartered in Montréal, Canada, and serves enterprise and government organizations via an integrated network of resellers, certified channel partners, integrators and consultants in over 80 countries. Genetec was founded on the principle of innovation and remains at the forefront of emerging technologies that unify IP physical security systems. For more information about Genetec, visit: www.genetec.com