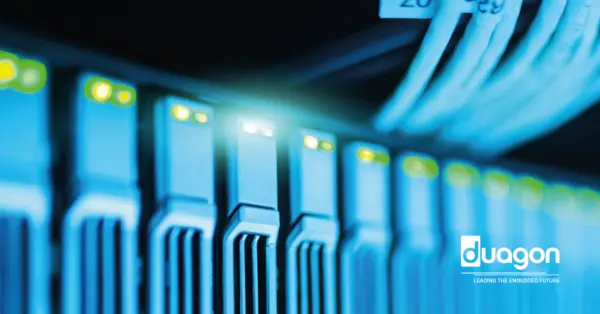 The railway sector in Europe is on the verge of its largest technology leap in its history, with many railways aiming at large degrees of automation in rail operation in order to substantially increase the capacity, quality and efficiency of the rail system.
With digitalisation, a large number of new technologies will enter the railway system that place high safety requirements on IT environments. As core contributor of functional safety computing for rail automation systems, duagon has extensive experience in the design of safety-critical onboard and trackside applications. Together with partners from the rail sector and industry, duagon cooperates to move forward on this subject.
Besides the introduction of enhanced Control Command and Signaling (CCS) approaches, and the introduction of novel technologies such as advanced sensing and artificial intelligence into the rail system, it is also necessary to design the appropriate IT platforms for future rail operation. In this context, the railway initiatives Reference CCS Architecture (RCA) [ref] and Open CCS Onboard Reference Architecture (OCORA) [ref] have started working on a Generic Safe Computing Platform concept [White Paper] in 2020, which is expected to provide the basis for safety-relevant railway applications for both onboard and trackside deployments. A key design paradigm is the introduction of a standardized method for separating applications from the computing platform. This decouples domains with very distinct lifecycles and leverages latest advances in the IT sector, while still leaving room for vendor differentiation on the detailed computing platform implementation.
To take this work to the next stage, the railways and industry players DB Netz AG, duagon, Nederlandse Spoorwegen, Real-Time Innovations (RTI), SBB, Siemens Mobility GmbH, SNCF Voyageurs, SNCF Réseau, SYSGO GmbH, Thales and Wind River have now teamed up to jointly develop a first version of the specification of the possible Application Programming Interface (API) between railway applications and the Safe Computing Platform. The work is expected to be published in Spring 2022 through RCA and OCORA and for instance serve as a basis for prototyping of possible Safe Computing Platform implementations.
Related information on the duagon Safe Control (d-SC) platform can be found here