Key Products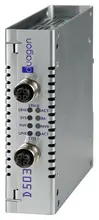 D503 - MVB TO ETHERNET GATEWAY
Easy-to-Configure Ethernet-to-MVB Gateway
The D503 is an Ethernet-to-MVB gateway. It provides a line redundant MVB interface as well as up to two 10/100 Mb/s Ethernet interfaces (ETH0 / ETH1).

The Ethernet connectors comply with IEC 61076-2-101 (D-coded; female). The optional second Ethernet interface ETH1 is intended to be used as a redundant line or as a separate channel for remote diagnostic and maintenance purposes. The MVB interface complies with the TCN standard IEC 61375 and supports devices up to class 4 including process and message data. Optionally, the device may act as a bus administrator.
The gateway is integrated in a stainless-steel housing that can be mounted on a DIN rail or using M4 screws. The device can be powered directly from the vehicle battery or by Power over Ethernet (PoE). Designed for the harsh traction environment, the D503 conforms to the EN 50155, EN 50121, and IEC 61373 standards in general, but particularly has a -40 °C to +70 °C ambient temperature range, interruption voltage supply class S2, coating against humidity, and enhanced EMI and vibration robustness.
duagon's gateways are available with two variants – as platform to build a customer-specific application or as gateway with a standard configurable gateway application. The platform variant is accompanied by a development library that enables fast and efficient design of customer-specific applications.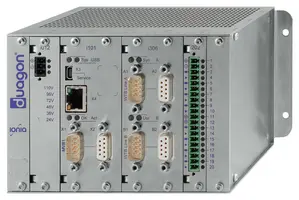 D521 - WTB TO MVB GATEWAY
WTB to MVB Gateway for Rolling Stock Applications
The D521 is a Wire Train Bus (WTB) to Multifunction Vehicle Bus (MVB) Gateway compliant to IEC 61375 and UIC Leaflet 556. The gateway is built with two WTB medium attachment units. Line A and B interfaces are galvanically isolated, enabling cable redundancy, and use standard 9-pole SUB-D type connectors. To overcome contact oxidation, the WTB gateway has an optional built-in fritting mechanism. The integrated WTB controller, realized on FPGA with duagon IP, can be configured to act as a strong or weak master or as a slave.
The gateway is delivered with a build-in UIC 556 conform mapping server application, handling message data communication and process data marshalling between the WTB and the MVB consist network. Safe data transmission can optionally be ordered. A complete configuration and integration toolchain is provided, including a configuration tool, to easily configure the application and allowing the gateway to be seamlessly integrated into any network architecture.
duagon's own MVB controller is implemented on FPGA and supports the full 4096 process data ports. The train consist network interface complies with the TCN standard IEC 61375 up to class 4.
The D521 offers 8 digital inputs and 8 combined input/output channels. The I/O channels are used by the application to implement battery voltage monitoring, redundancy switch over and a "wake-up" signal.
The WTB gateway is connected directly to the train battery and supports all voltage types from 24 to 110 Vdc. Moreover, it has a built-in power save mode. The service interfaces accessible via Ethernet offers quick access to diagnostic information and all recorded data.
The D521 is designed for harsh rolling stock environments and is fully compliant with EN 50155.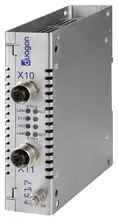 D517 – SECURE ETHERNET-TO-ETHERNET GATEWAY
Secure Ethernet-to-Ethernet Gateway with Configurable Packet Filter
The D517 is a secure Ethernet-to-Ethernet gateway featuring two Ethernet interfaces: a serial interface and a JTAG interface for software update and debugging purposes. The Ethernet interfaces comply to IEEE 802.3 and the internal logic is prepared for the "Electronic railway equipment - Train communication network (TCN)" standard series IEC 61375-3-4.
The integrated firewall implements a design-time configurable packet filter with independent filter configuration for both filter directions (i.e. ETH0 -> ETH1 and ETH1 -> ETH0). This results in up to 100 configurable filter rules, i.e. 50 rules for each filter direction. Configurable rules include IP source and destination address, protocol, UDP and TCP source and destination port, TCP flags and ICMP type and code.
Most settings can be managed by a configuration file. The packet filter configuration may be frozen for series production (i.e. the serial interface is completely disabled).
The D517 is designed for harsh rolling stock environment and complies with the EN 50155 / EN 50121 / EN 61373 standards. The gateway is integrated in a stainless-steel housing that is mounted on a DIN rail and powered directly from the vehicle battery supporting voltages ranges from 24 V up to 110 V.