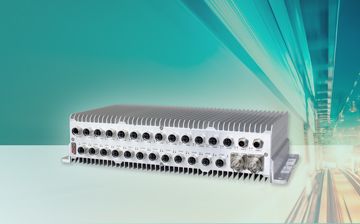 "NL" Family Principle
MEN's "NL" Ethernet switch family principle is based on a wide range of configuration options (e.g., amount of Ethernet ports, fiber connections or Power over Ethernet) to easily adapt the switch to application requirements.
Flexible Concept in a Small Housing
The NL34 is a 24+2-port fully managed layer 2/3 Ethernet switch, providing a wide range of configuration options with 24 M12 Gigabit Ethernet ports. M12 connectors can be configured to be A-, D- or X-coded and combinations are also possible. The X-coded connectors are designed as push-pull and screwed variants (Harting concept). The NL34 offers two optional Ethernet fiber ports with 1000BASE-SX as standard variant. The mechanical concept is an extremely compact, high-quality aluminum housing providing high port density and ultra-high ruggedness. It is designed for wall-mounting, but mounting in a 19" rack is also an option.
Performance, Security and Diagnostic Features
The 29 Gbit/s, TCAM based, store-and-forward switching matrix of the NL34 allows high-performance layer 2 switching over all connected interfaces. For easy remote management and access, layer 3 protocols, e.g., IPv4/IPv6 and DHCP, are integrated. The switch provides extended security features like SNMPv3, SSH and HTTPS. Traffic isolation (VLAN) and switching redundancy protocols (e.g., STP, RSTP, MSTP) provide safe running of the network using redundant data paths in the event of a fault. The ITU-T G.8031/G.8032 ring and linear protection switching feature set makes NL34 able to create network ring scenarios with recovery time under 50 ms. Monitoring and diagnosis functions, e.g., sFlow or SNMPv1, v2c, v3 are provided.
Wide-Range Power Supply and Power over Ethernet
The EN 50155 compliant supply voltage range of 24 V DC to 110 V DC provides maximum flexibility for using the switch. The NL34 comes with internal Power over Ethernet for 22 ports with a maximum of 30 W per port and a total of 90 W. With external PoE supply PU28, up to 600 W PoE output power are available.
Maintenance Free and Extremely Rugged
The NL34 is designed for fanless operation at temperatures ranging from -40 °C to +70 °C (10 min @ +85 °C). The cooling fins serve as a heat sink for the internal electronics. It is maintenance-free and developed specifically for rough environmental conditions in rolling stock applications. Long-term availability until 2026 from product start minimizes lifecycle management by making the system available at least for this period of time.