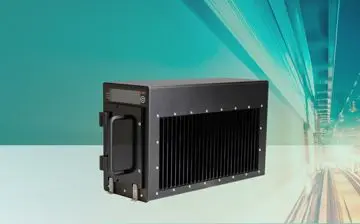 Multipurpose Airborne Network Server
MP70S is an application ready, DO-160G pre-qualified, SWaP-C optimized, general purpose device for high speed network applications inside an aircraft, such as in-flight entertainment, wireless content server, web servers or flight maintenance servers.
Powerful CPU, Carrier Grade Ethernet and High Capacity Storage
The MP70S is powered by the latest generation Intel Core i7 CPU, features a carrier grade 16-port Ethernet switch and provides storage capacity for several terabytes of SSD which makes it the ideal solution for the high performance computing and networking requirements in aircraft.
CompactPCI Serial Based and ARINC 600 Compliant
The MP70S is ARINC 600 compliant, housed in a rugged convection cooled 4 MCU sized case which is designed for both line-fit and retrofit installations in avionics bays. Based on the open standard CompactPCI Serial, the MP70S is designed for long-term availability, scalability, flexibility and future guaranteed. It also guarantees the highest reliability due to directly soldered essential components such as the CPU and RAM and cable-less design.
ARINC Interfaces and Configurable Wireless Options
To connect to legacy aircraft equipment, the MP70S provides an interface for ARINC 429 and ARINC 717, as well as ARINC 763-3 discrete I/O. With two configurable wireless options, it can be configured to simultaneously act as a customer accessible wireless access point while also providing a connection to cellular 3G/4G networks to perform data loading.
Multipurpose Display
A display on the front panel allows the system designer to brand the system to his needs and/or show system status and operating instructions.
Easy Access for Maintenance and Installation
The MP70S service interfaces are directly accessible by opening the front flap for easy maintenance, installation and data loading. Two USB 3.0 interfaces allow extremely fast updates of the internal disks. The MP70S supports Linux (Windows on request), and is delivered with the operating system, Ethernet switch firmware and device drivers pre-installed.