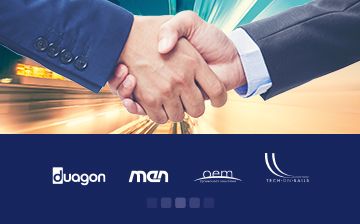 duagon, has acquired MNI Tech On Rails S.L. (TechOnRails), Madrid, Spain, a leading engineering company specialized in the conception and design of railway signaling systems, with more than 150 highly skilled, experienced and specialized engineers.
duagon is backed by the DBAG‐advised DBAG Fund VII, a German mid‐market fund focused on industrials in the German‐speaking region, that invested in duagon in July 2017 as part of a management buyout.
TechOnRails, with offices in Madrid and Barcelona, provides engineering services for R&D and high‐end software development for clients in the global railway signaling industry, and has achieved continuous growth and became a reference landmark including projects in more than 20 countries and 4 continents.
Ángel Saldaña, founder of Tech On Rails will continue to lead TechOnRails and become General Manager of duagon Spain. duagon Spain will be the Group's global competence center for railway engineering solutions and software development. duagon Spain will also be the Sales and Service center for Iberian and South American markets, offering professional support to all duagon customers. "We are excited to expand our offering into engineering services especially for signaling applications while strengthening our footprint in Iberia. Moreover, we are convinced that TechOnRails' experienced team of highly skilled and motivated engineers will be a great fit for duagon and are particularly glad that Angel Saldaña has decided to stay onboard for our journey" noted Dr. Markus Dilger, CEO of duagon, upon closing of the acquisition.
"It is an ideal combination for both companies to be able to offer a complete range of solutions to our global customer base in the railway industry. We regard duagon as a very good fit to our company, adding many additional opportunities for growth of our business", added Mr. Ángel Saldaña General Manager of duagon Spain and Business Unit Engineering Services.
About duagon
duagon Holding AG, a Swiss based company, is a world leader in high performance communication and computing products used in regulated critical applications. All products are based on duagon's best‐in‐class proprietary communication & computing technology. duagon's Business Unit Communication and Control, headquartered in Dietikon, Switzerland, focuses on railway networking components using protocols such as MVB (Multifunction Vehicle Bus), Ethernet, CAN, WTB and ETB. duagons BU Computing, headquartered in Nuremberg, Germany, delivers safe and secure computing solutions to clients in the Railway and Medical Technology industries. duagon is considered the independent world leader for rolling stock communication, control & computing products. Backed by controlling shareholder DBAG Fund VII, a German midmarket fund focusing on growing industrial businesses, duagon is convinced that both OEMs as well as system integrators in the rail industry appreciate the creation of an independent and technologically strong player in electronics. duagon maintains offices in Australia, China, France, Germany, India, Switzerland (HQ), and USA.
About TechOnRails
MNI Technology on Rails S.L. was founded in 2009 and has since then evolved into a leading international engineering services company for R&D and high‐end software development, for clients in the global railway signaling industry, achieving continuous growth and becoming a reference landmark based on specialization and added value. The company maintains offices in Madrid (Tres Cantos and Alcobendas) and Barcelona and has already performed projects in more than 20 countries on 4 continents. TechOnRails shareholders were advised on this transaction by V4 Financial Partners (M&A advisor) and Gómez‐Acebo & Pombo (legal advisor) while Duagon was advised by KPMG (financial and tax advisor), Baker McKenzie (legal advisor) and Wingtec (M&A advisor).